Deaf Village Ireland is an inclusive state of the art social, administration, religious, community, sports, heritage and educational complex providing a range of facilities for both Deaf and hearing people.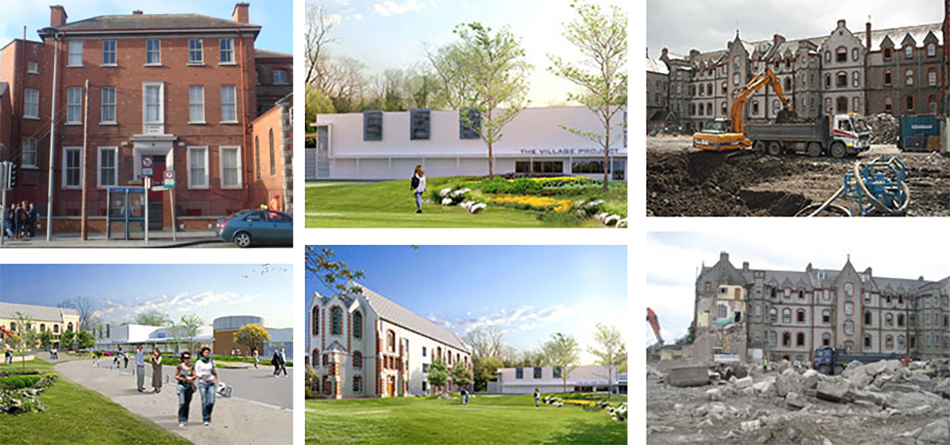 Deaf Village Ireland is a project which was set up by the Deaf Community in Ireland working alongside the Catholic Institute for Deaf People (CIDP). In this page we explain how the project developed and grew to what we have today.
How the Deaf Village Ireland project came about
The Deaf Club was previously located in Drumcondra. Deaf Club members met at this location for the past 22 years (1990 – 2012). The building was targeted as part of the proposed upcoming project of Irish Rail DART for an underground public transport system. The Deaf Club Drumcondra was seen as an excellent location where the public could access this underground transport system in the future. The CIDP commissioned a report on Irish Rails Proposal. Philip Ryan compiled a report with various recommendations. The report suggested setting up a Deaf Centre. The centre to be built somewhere on lands under the ownership of CIDP. The CIDP owned lands situated at St. Joseph's School for Deaf Boys and St.Joseph's House in Stillogran.
The CIDP took feedback on the report from the board about developing the project while working together with the Deaf community. The CIDP arranged for various Deaf organizations to work together to make it happen. With their ideas, discussions on the needs of the Deaf community, various committees were set up. These committees were involved in the design, ideas, visions and plans to ensure that the centre would be the Deaf-Led for the Deaf community in Ireland.
Development of the Project
Consultation on the details of the design of the Village have been ongoing for the last three years. This was an important consultation process within the Deaf community. The building of the Village ensured that the Deaf community and their organizations have a state of the art place to call home and from which the community can further develop.
In June, 2011, the project of Deaf Village Ireland came alive. Building of Deaf Village Ireland in Ireland started. The Deaf Village Ireland only took about 286 days to complete the project. The Deaf Village Ireland opened to the public in late August 2012. Deaf Village Ireland was officially opened by the Minister of Transports, Mr. Leo Varadkar.